A practical handbook for the baby boomers, intended as helpful hints and suggestions to assist them in the last stages of their parents' life.
"This book is practical, full of wisdom, and fun to read. It focuses on the quality of life no matter what the circumstances"- Paul Klaasen, Founder of Sunrise Senior Living
"A very big thank you from the Worldnews team for your book as contribution to the Elder Care Series" ABC Worldnews"
order a copy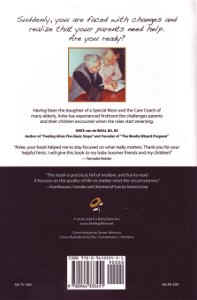 Table of Contents:
Reflections of a Daughter

Notes of a Care Coach

Baby boomers- Are we prepared?
(to grow older ourselves...)

"This book, offers a refreshing and practical clarity on caring for elders in our families and communities. Anke's personal in-depth experiences caring for her mom and many years as a Care Coach inspire us to realize how we can prepare for and fully participate in the precious last years of a loved one's life."
Barbara Yamasaki, L.M.P.