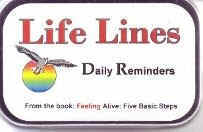 PULL A CARD !
These Daily Reminders of the Book Feeling Alive, will help you to stay focused on what you really want to achieve. The cards 'mirror' what is going on in your life at. They will help you to regroup, reassure you and remind you of all the things you know, but may have 'forgotten' for a moment. (set of 72 different little cards.)
Believe it or not; you will always pull the right one.
Carry the cards with you wherever you go.
Don't give up the miracle before it happens